About Us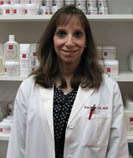 Dr. Karen Lish is a board certified dermatologist accredited by the American Board of Dermatology. She completed her medical school training at the New York University School of Medicine. She performed her medical internship at New York University, as well. She accomplished her formal training in dermatology at the prestigious New York University Skin and Cancer Unit. There she participated in clinical research studies on Cutaneous T Cell Lymphoma and Mycosis Fungoides. She has published articles in the field of dermatology, and has presented at conferences at both the New York University Department of Dermatology and at the American Academy of Dermatology annual meeting. She continues to teach medical students.
Dr. Lish has been in private practice for 15 years. She practices medical dermatology, including adult and pediatric dermatology, and performs dermatological surgery, including skin cancer surgery. In addition, she has a special interest in cosmetic dermatology, including specialized skin care regimens, laser skin rejuvenation for sun damage, brown spots, blood vessels, and wrinkles, Botox and Dysport injections for wrinkles, Restylane and Perlane fillers for wrinkles, chemical peels, laser hair removal, intense pulse light (IPL) laser treatments, and sclerotherapy.
Dr. Lish offers the highest quality care in an intimate personalized setting, with an attentive office staff, and the highest regard for your complete satisfaction.

Irma

Christine

Margie

Irene
Additional Info
To request an appointment, please call us at (516) 374-7575.
Below are the Medical History and Privacy Policy forms you'll need to complete on your first visit. You can expedite matters by downloading these forms, completing them at home and handing them to our staff when you arrive for your initial visit to our office.
In order to view or print these forms you will need Adobe Acrobat Reader installed. Click here to download it.

We accept Visa and Mastercard credit cards. We accept many major dermatological insurance plans including Aetna, Blue Cross Blue Shield, Empire, Healtnet, Magnacare, Medicare, Oxford, United Healthcare and many others. To find out if we accept your plan, please call our office.